Warm Kitchen, Cozy Family Dinner
Recipe for Brown Sugar Meatloaf
Meatloaf recipes vary from person-to-person. The meatloaf recipe I'm sharing with you is tried and true.  I love that it is wheat-free as well. It's a dish everyone can enjoy. The secret ingredient is the brown sugar. That little touch of sweetness in this savory dish makes it especially nice. Even though I've made this meatloaf many times over the years, I still love to pull out the recipe card, stained with time and meal preparations of the past. I hope this becomes one of your favorites too!
Meatloaf is one of those easy, cozy main dishes that can be prepared ahead of time so when you are ready, it can be put in the oven to bake. This is probably why meatloaf is a go-to in our family for busy weeknights. Nothing beats meatloaf with mashed potatoes. We often add green beans or corn on the side too. Usually, I peel, cut-up potatoes, and put them in a covered bowl of cold water earlier in the day. This makes cooking dinner much easier when I can dump the already prepared potatoes into a large pot of water to boil them. This is done when the meatloaf is about half-way done baking.  
Every once in a while, it's fun to "mix-it-up" a little.
Since we like the ingredients so well, we keep those- but I will mold the meat into muffin tins and bake them. When they are finished baking, I grab a pastry bag and fill it with mashed potatoes and add a frosting cake tip to create cupcake-like individual meals.
We have wild onions growing just about every place we look on our property, so I'll snip some fresh ones and take kitchen scissors to the green tops for "sprinkles" on the swirled mashed potatoes. The baking time will need to be adjusted if you choose to do this and will take a lot less time to bake. These individual meatloafs are perfect for freezing after they have been assembled. Put them into the refrigerator so the mashed potatoes solidify, then package for the freezer. It makes life easy when all you have to do is thaw and bake.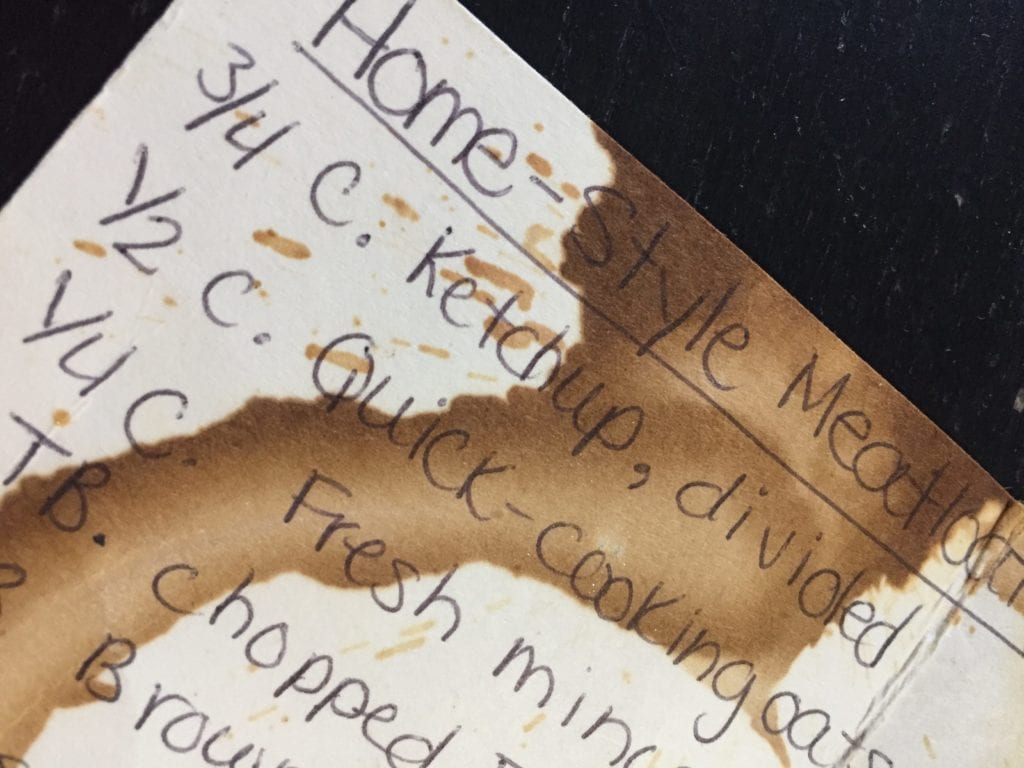 Brown Sugar Meatloaf
Serves 6
1/2 c. ketchup plus ¼ c. for top of loaf
½ c. quick-cooking oats
¼ c. fresh minced onions
2 TB. fresh parsley (optional)
1 TB. brown sugar
¼ tsp. Salt
¼ tsp. Black pepper
2 lg. Egg whites
1 ½ lbs. Lean ground hamburger
Preheat oven to 350 degrees. Mix all of the ingredients except the hamburger,
in a large mixing bowl. Add meat and mix well to incorporate all ingredients into the meat.
Add meat mixture to an 8×4" loaf pan, pressing it down to mold into the pan.
Brush  ¼ c. ketchup over the top of the loaf. Bake at 350 degrees for 1 hour & 10 minutes. Let stand for 10 minutes before cutting.