Sometimes you need a good meal. A meal that is simple, yet provides most of the basics all-in-one. Something not over-thought, but still packs a punch as memorable.
Growing up  in Michigan, my grandma would provide such a meal- one she was well-known for by family and friends. It truly brings back warm memories as if she were in the room getting ready to pull dinner from the oven. It's an aroma that lingers in such a comforting way. My mother learned from her and passed on to me this delicious gift- A meal that is wrapped in a flaky homemade pastry; the pasty.
Pasties (pronounced pass-tees) are a big deal in northern Michigan. Traditionally, they are round steak cubes, potatoes, turnips or rutabagas, onions, salt & pepper, wrapped in a pastry pocket. They can be handheld or eaten with a fork- especially if you choose to top it with beef gravy.
My grandma chose to use cubed flank steak- which is my favorite, but ground hamburger is a great budget-friendly choice too. Potatoes are mandatory in this dish. I often add baby carrots and onions too. The great thing about this dish is each pasty can be tailored. Have someone who detests onion? Leave it out of theirs. Don't like cooked carrots? Not a problem. It's a great meal to bring everyone together at the table and still have some choice available. We love eating pasties cold too- a great lunchbox addition for leftovers. They can also be frozen after they are cooked for an easy dinner that just needs to be reheated (frozen, 350 degrees, 45 minutes).
Pasties: Makes 6
Dough:
4c. Flour
2 tsp. Salt
1 c. vegetable shortening
7-10 TB. ice water
Filling:
2 lbs. Flank steak or ground beef
5 lbs. Potatoes, peeled & ¼" cubed
1-2 onions
Salt & pepper to taste
Optional: baby carrots, turnips, rutabagas
You could try mushrooms or be creative with other root vegetables!
Cut shortening into flour with salt  (using a fork or a food processor) until mixture is coarse.
It should be a coarse crumb mixture. Add cold water to form a dough ball. The dough shouldn't be too sticky or hard. Add more flour or water if needed-  a little at a time until a good consistency. Divide into 6 equal balls.
Roll each dough ball out on a floured surface, making about a 6" circle.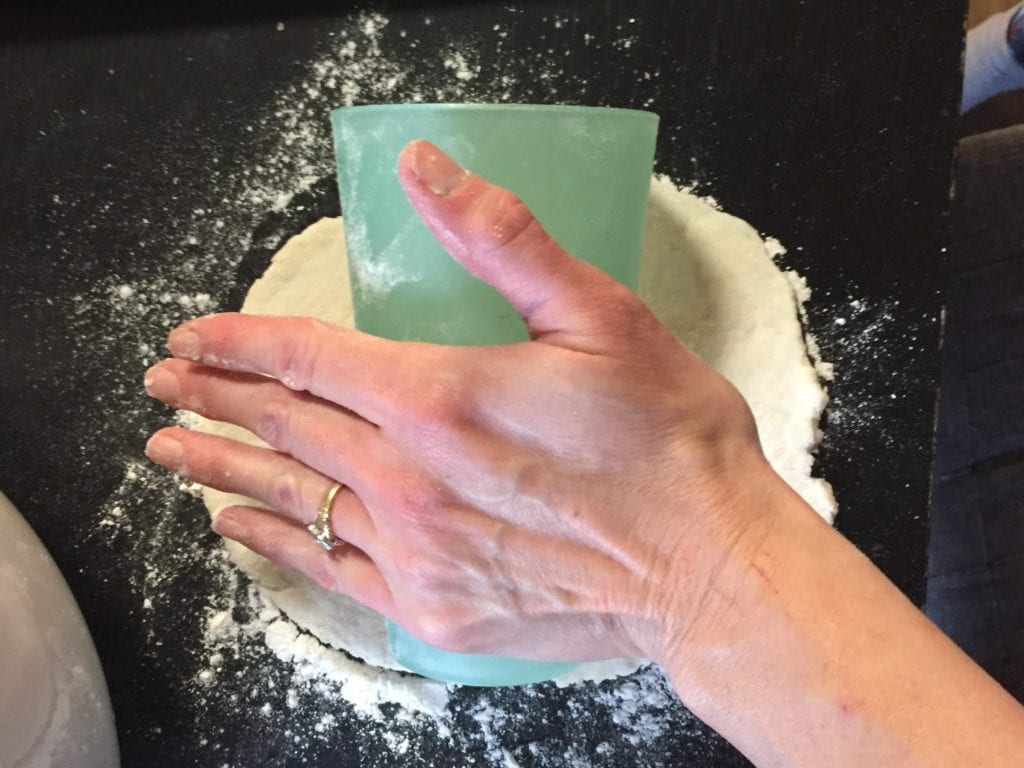 Put equal portions of meat, vegetables, & seasonings on each circle of dough.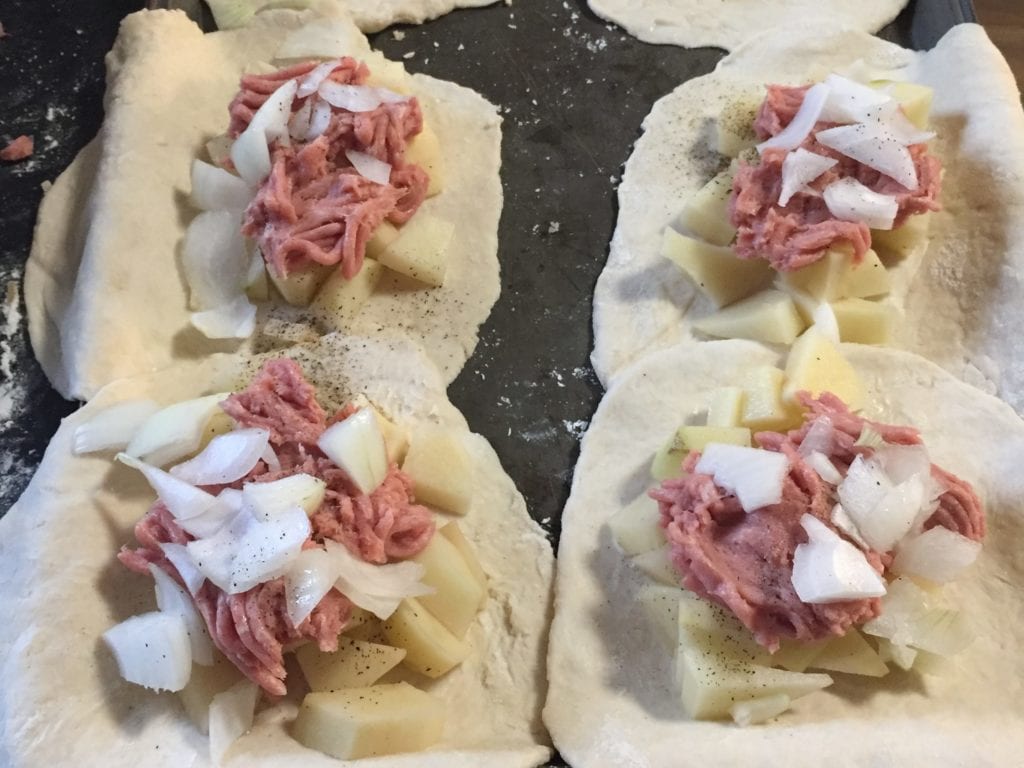 Fold pastry over to make a moon-shaped pie.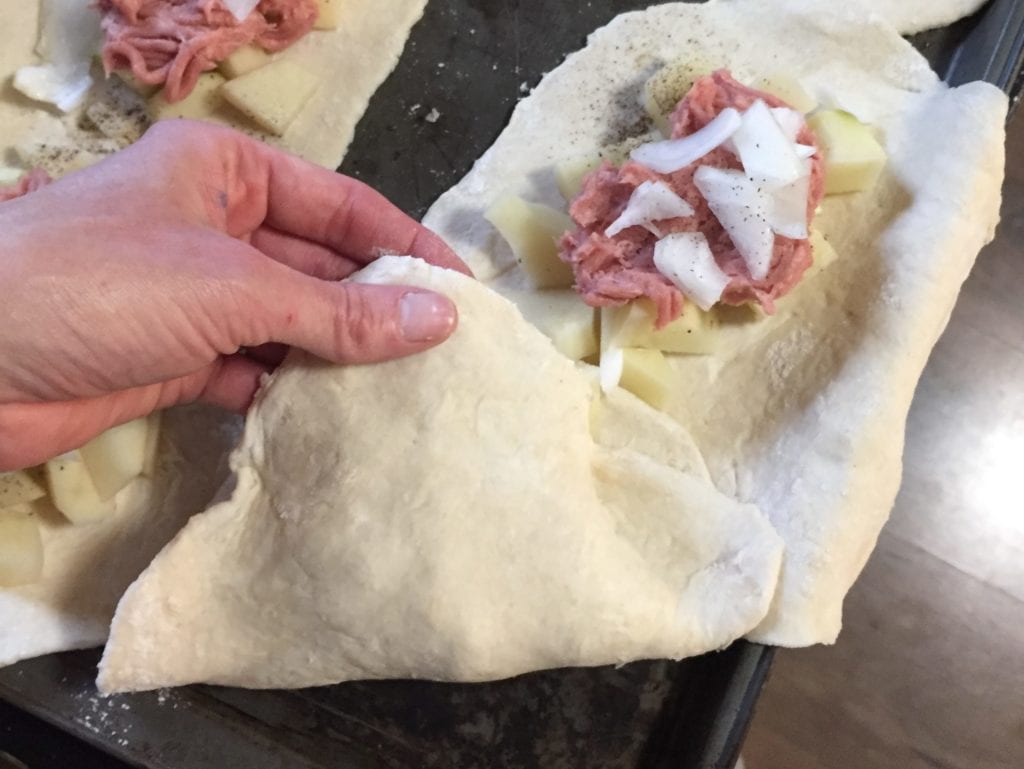 Seal the edges with your fingers. Prick holes in the tops of each pasty with a fork. Sprinkle tops with salt.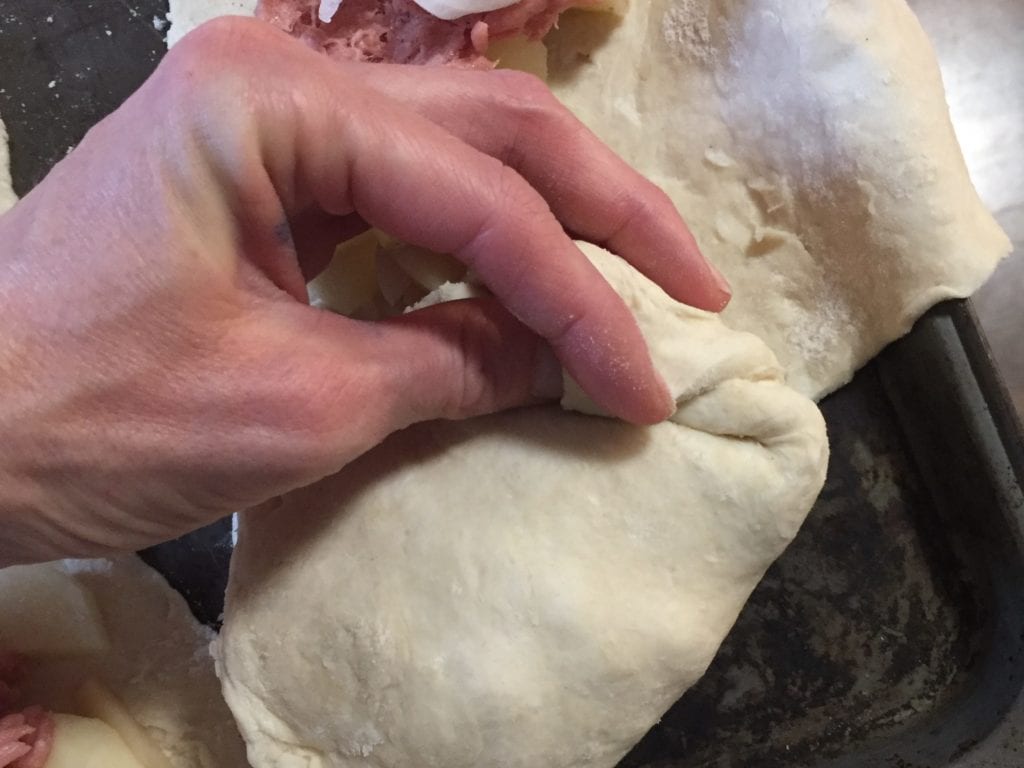 Bake on a cookie sheet for 1 hour at 350 degrees.